You see I blog from my phone. Yup. Since Sept when I lost my job, I had to start only blogging from my cell. I used to blog at work from the PC all the time. We have a desktop and laptop that need some work and its just not on the priority list. Itll cost a few hundred to get them repaired and then cost of monthly internet. No phone line included. My cell bill is cheap and includes unlimited web and I need it so that Js school can always call me whether Im home or not.
I need to blog. I love to blog. I refuse to let a small thing like not having a computer stop me from spreading awareness.
My friend Reyna is amazed by this so we put this together, hope you find it as amusing as we do.
"Hey Lex...below see my questions about your uber-
awesomeness. You are my hero!''
1. "Blexting" or "Blogting" or "Phogging" or "Bloning"? What to call blogging from one's phone that is the question?
Hmm. I never actually thought about it before. I guess I like phogging as sometimes these posts are written during a 3am fog known as the bg needs to move (pick whiich way for a given day)
2. When did you start blogging from your phone and why?
Well I always emailed and facebooked and tweeted from my blackberry cause its a smartphone and super easy. Then I started bloggin and sometimes wouldnt want to wait until I was at work to post it. I now use a virgin mobile rumour touch so its not as easy as the blackberry but I get it done.
3. What type of phone do you have? Does it have a full keypad?
Oops I went ahead. I have Rumour Touch and oh yes it has a full keyboard!! I also use the Opera Mini Browser which is amazing!
4. Do you receive thumb massages from Biggah after a trying post? Or, do you need to "ice" your thumbs? Or, simply...do your thumbs become sore after so much writing from your phone?
My thumbs hurt. My hands hurt. They cramp so bad. I wont lie.
5. How long does an average post from your phone take?
Not long actually. I can type 60 wpm so using a full keyboard is only harder because of how small it is.
6. What is the most challenging part of blogging from your
phone?
Well wth the blackberry not much I could attach pics to the email, type post in body of email and viola its posted! This phone for some reason wont allow me to post pics via email so I have to use the mobile web. And use photobucket to add pics blech. The thing I hate the most is I can link up to anything on my post :(
7. Where is the most unusual location that you have phone
blogged at?
lol duh the porcelain throne.
8. Do you miss your P.C.? And, when do you think you will be blogging from once again?
OH GOD YES!!!! Ummm when things are where they should be financially. You know I have to buy a new Dex transmitter soon, all cash pay, so putting money towards a pc just isnt a priority for us right now.
Well there it is. All laid out. If you have any other questions please ask!!
Thanks Reyna I love u even though you cant text ;)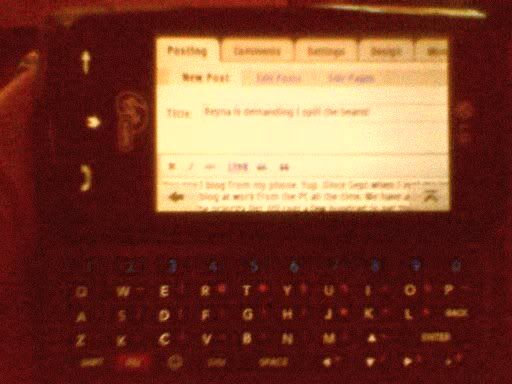 ** This is also why pic sizes are strange. Blackberry was way easier but so pricey!
ALSO STAY TUNED SUPERHERO WILL BE BACK SOON!! BETTER THAN EVER!!